Come Join Us!
Every Sunday
11:00am Worship (Nursery provided)
Every Wednesday
7:00pm Midweek Discipleship Study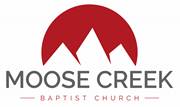 3518 Hope Street North Pole, AK 99705
Church Phone: (907) 488-2407
Church Email: moosecreekbaptist@gmail.com
Pastor John's Phone: (907) 699-8205
Welcome to MCBC
MCBC is all about helping people connect to Jesus Christ, equipping them to serve, and then watching God transform lives! Here are a few things that you might like to know about us from the start.
* We have a rich history. MCBC has been in this location since 1963 and has had several years (decades) of strong ministry and outreach.
* We desire to reach those that are unchurched and those that have given up on traditional church.
* We desire to glorify God and bring Him honor is all that we do.
* We believe that church should be enjoyable, fun, challenging, and lke attending a weekly family reunion.
* We have experienced some tough times, just like many of you have, and we are stronger for those experienes and we are now refocusing on the days ahead.
* We desire to be a church where people like you can: meet new friends; enjoy a time of worship that is Biblical, reflective, family-friendly, and God-honoring; hear messages that are Biblical, relevant, and have application to your daily life; and trust your children to the care of our Nursery and Children workers.
We are not there yet! While we are not a large church, we do have a deep desire to reach our local ministry area with the love of Jesus Christ. We are a small group of people who have discovered the great joy of the Christian lifestyle, and we invite you to join us this Sunday at 11:00am for worship. We also invite you to join with us as God uses us to build a church that will reach the unchurches and those who have givien up on church. We'd love to havey ou and your family become a part of the MCBC family.
No items are available at this time.